4 comments
This is a nice lengthy piece on the crime and it focuses on the city of Memphis in a way. I will share a portion of the article. You can read more and the rest by visiting "American Murder Mystery." Note: This appears in The Atlantic Monthly July/August 2008 issue.
Why is crime rising in so many American cities? The answer implicates one of the most celebrated antipoverty programs of recent decades.
by Hanna Rosin
American Murder Mystery
Video footage shot by Hanna Rosin
THE THIN BLUE LINE: Doug Barnes of the Memphis Police Department inside the Old Allen Station armory
To get to the Old Allen police station in North Memphis, you have to drive all the way to the end of a quiet suburban road until it turns country. Hidden by six acres of woods, the station seems to be the kind of place that might concern itself mainly with lost dogs, or maybe the misuse of hunting licenses. But it isn't. Not anymore. As Lieutenant Doug Barnes waited for me to arrive one night for a tour of his beat, he had a smoke and listened for shots. He counted eight, none meant for buck. "Nothing unusual for a Tuesday," he told me.
Barnes is white, middle-aged, and, like many veteran cops, looks powerful without being fit. He grew up four miles from the station during the 1960s, he said, back when middle-class whites lived peacefully alongside both city elites and working-class African Americans. After the 1968 riots, Barnes's father taught him the word curfew and reminded him to lock the doors. Still, the place remained, until about 10 years ago, a pretty safe neighborhood where you could play outside with a ball or a dog. But as he considered more-recent times, his nostalgia gave way to something darker. "I have never been so disheartened," he said.
He remembers when the ground began to shift beneath him. He was working as an investigator throughout the city, looking into homicides and major crimes. Most of his work was downtown. One day in 1997, he got a call to check out a dead car that someone had rolled up onto the side of the interstate, on the way to the northern suburbs. The car "looked like Swiss cheese," he said, with 40 or 50 bullet holes in it and blood all over the seats. Barnes started investigating. He located one corpse in the woods nearby and another, which had been shoved out a car door, in the parking lot of a hospital a few miles away. He found a neighborhood witness, who gave up everything but the killers' names. Two weeks later, he got another call about an abandoned car. This time the body was inside. "It was my witness," he recalled, "deader than a mackerel."
At this point, he still thought of the stretch of Memphis where he'd grown up as "quiet as all get-out"; the only place you'd see cruisers congregated was in the Safeway parking lot, where churchgoing cops held choir practice before going out for drinks. But by 2000, all of that had changed. Once-quiet apartment complexes full of young families "suddenly started turning hot on us." Instead of the occasional break-in, Barnes was getting calls about armed robberies, gunshots in the hallways, drug dealers roughing up their neighbors. A gang war ripped through the neighborhood. "We thought, What the hell is going on here?" A gang war! In North Memphis! "All of a sudden it was a damn war zone," he said.
As we drove around his beat, this new suburban warfare was not so easy to make out. We passed by the city zoo and Rhodes College, a serene-looking campus on a hill. We passed by plenty of quiet streets lined with ranch houses, not fancy but not falling down, either. Then Barnes began to narrate, street by street, getting more animated and bitter by the block.
Here was the perfectly pleasant-looking Maplewood Avenue, where the old azaleas were just starting to bloom and the local cops were trying to weed out the Chicago drug connection. Farther down the avenue, two households flew American flags, and a third was known for manufacturing "cheese," a particularly potent form of powdered heroin. The Hollywood branch of the local library, long famous for its children's room, was now also renowned for the time thugs stole $1,800 there from a Girl Scout who'd been collecting cookie funds. Finally we came to a tidy brick complex called Goodwill Village, where Barnes had recently chased down some gang members who'd been taking turns having sex with a new female recruit. As we closed in on midnight, Barnes's beat began to feel like the setting of a David Lynch movie, where every backyard and cul-de-sac could double as a place to hide a body. Or like a suburban remake of Taxi Driver, with Barnes as the new Travis Bickle. "I'm like a zookeeper now," said Barnes. "I hold the key, and my job right now is to protect the people from all the animals."
On September 27, 2007, a headline in The Commercial Appeal, the city's biggest newspaper, announced a dubious honor: "Memphis Leads U.S. in Violent Crime." Local precincts had been seeing their internal numbers for homicide, rape, aggravated assault, and robbery tick up since the late 1990s, starting around the time Barnes saw the first dead car. By 2005, a criminologist closely tracking those numbers was describing the pattern as a crime explosion. In May of 2007, a woman from upscale Chickasaw Gardens was raped by two men, at gunpoint; the assailants had followed her and her son home one afternoon. Outraged residents formed Citizens Against Crime and lobbied the statehouse for tougher gun laws. "People are concerned for their lives, frankly," said one county commissioner, summarizing the city's mood. This March, a man murdered six people, including two young children, in a house a few miles south of Old Allen Station.
Falling crime rates have been one of the great American success stories of the past 15 years. New York and Los Angeles, once the twin capitals of violent crime, have calmed down significantly, as have most other big cities. Criminologists still debate why: the crack war petered out, new policing tactics worked, the economy improved for a long spell. Whatever the alchemy, crime in New York, for instance, is now so low that local prison guards are worried about unemployment.
Lately, though, a new and unexpected pattern has emerged, taking criminologists by surprise. While crime rates in large cities stayed flat, homicide rates in many midsize cities (with populations of between 500,000 and 1 million) began increasing, sometimes by as much as 20percent a year. In 2006, the Police Executive Research Forum, a national police group surveying cities from coast to coast, concluded in a report called "A Gathering Storm" that this might represent "the front end … of an epidemic of violence not seen for years." The leaders of the group, which is made up of police chiefs and sheriffs, theorized about what might be spurring the latest crime wave: the spread of gangs, the masses of offenders coming out of prison, methamphetamines. But mostly they puzzled over the bleak new landscape. According to FBI data, America's most dangerous spots are now places where Martin Scorsese would never think of staging a shoot-out—Florence, South Carolina; Charlotte-Mecklenburg, North Carolina; Kansas City, Missouri; Reading, Pennsylvania; Orlando, Florida; Memphis, Tennessee.
Memphis has always been associated with some amount of violence. But why has Elvis's hometown turned into America's new South Bronx? Barnes thinks he knows one big part of the answer, as does the city's chief of police. A handful of local criminologists and social scientists think they can explain it, too. But it's a dismal answer, one that city leaders have made clear they don't want to hear. It's an answer that offers up racial stereotypes to fearful whites in a city trying to move beyond racial tensions. Ultimately, it reaches beyond crime and implicates one of the most ambitious antipoverty programs of recent decades.
Read On
6 comments
It's a hot summer. I am enjoying my summer, but it could be much better. Here and there I find myself on Facebook seeing how friends are doing and what their statuses are . I kind of don't believe myself when I say that I am kind of ready to go back to school. Only two more months left of summer. I could assume you are enjoying your summer. Along with the wonderful weather and warmth of the sun, summer brings the rise of high gas prices. Fortunate I don't have to worry about those at the present time. I don't have a creative muse today to really write a well rounded post if you know what I mean. I really don't want to post any more articles in place of the lack of actual original posts that I should be writing. Soon I will be leaving off to California for a couple of weeks. How soon? I'm catching a direct flight this Saturday morning. I am really excited about going there.  I will say this will be the highlight of this summer. 
The month is half way over and soon it will be July. July Fourth is a very special day for our country and it is celebrated in many different ways. My favorite aspect of this day are the fireworks. They brightly light up the sky with different designs and bring together family and friends. I don't think I would want to be anywhere else, but with family and friends on this day. Sometimes the real celebration, or true meaning, of why we celebrate this holiday. It is the signing of the Declaration of Independence of 1777 in Philadelphia. We all learn about this memorable day in history and government classes. Though those type of classes are boring, I find it interesting to capture some history about our country and about world events that turn minds to a better thinking.
Lately, my creative must has been off track. In terms, the literary side of me is not up to standards. I think this is one of a few personal posts that I have written since all others are on a broader spectrum whereas I usually do a few personal posts here and there without boring any readers who may be subscribed or those who visit each week. You'll noticed on the side that you can instantly chat with me throughout the day. If you prefer email, then that is available as well.  Those are a few ways to get on contact with me in a matter of minutes.
In conclusion, if you have a bright shining sun outside, you should go out and have fun. If it is raining where you are located, then it sucks for you. Remember to drink plenty of water. I nor any of your family members do not want you in the hospital from dehydration and passing out. Until next time!....
Read On
2 comments
This article is from Slate.com. This is very interesting to find out what happens to old airplanes after they are not used by the different airline companies.
By Chris Wilson
Posted Wednesday, June 4, 2008, at 6:14 PM ET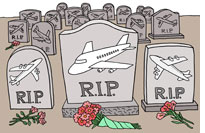 United Airlines announced Wednesday that it will remove 100 jets from its fleet, including all 94 of its Boeing 737s, a popular single-aisle jet. What do airlines do with planes they don't need anymore?
They sell them or send them to the desert. An airline might be able to sell off an older model like the 737 to smaller overseas carriers who are trying to upgrade and expand their fleets. In recent years, former Soviet Bloc countries and parts of Asia have been the most avid buyers of used aircraft from the United States. While a few domestic startup airlines have also purchased aircraft from larger carriers, these sales make up a small fraction of the total.
To put a plane on the market, a carrier typically advertises in an industry newsletter like SpeedNews or Jetmark. United won't be responsible for selling all of its retired planes, though, because it may not own all of them—about a third of all commercial planes are leased by the carrier. Any loaners will be returned to their owners and then presumably sold or leased out to another company.
If a plane is sold to another carrier immediately, it's likely to go straight to a maintenance facility where it will be refurbished for its new owner. Otherwise, the airline flies it to a storage facility somewhere in the southwestern United States, where it's parked until it gets sold, cannibalized for spare parts, or converted into a cargo plane.
Unused and unsold commercial jets often end up at the Mojave Air and Space Port, a storage facility—or "boneyard"—for defunct aircraft in Southern California. The dry desert climate is ideal for preventing corrosion, and the hard soil can support heavy loads. The area does have its hazards, though: One aircraft remarketing consultant told the Explainer that, years ago, some MD-80 jets in storage in the Mojave Desert sank into the mud during a strong rainstorm and then baked in place in the next day's sun.
Got a question about today's news? Ask the Explainer .
Explainer Bob McAdoo of Avondale Partners, John Mowry of SH&E, and Pete Seidlitz of Bristol Associates.
Read On
About Me
I'm an English major with the concentration of ESL at The University of Memphis. I like to have fun and just meeting new people. I am a bit weird at times and fun to talk to once you get to know me. I think my blog will explain the rest? Hope you like what you see and read!
View my complete profile

Blog Archive